Blog
Khaki For Spring: Khaki Fashion Trends
Spring fashion has never been more wearable, with a slight contradiction, as normally this fabulous colour trend is usually big in Autumn, but not this season…this hot new spring colour can be found everywhere and is perfect for wearing to the office, for a dinner date or to the pub and can even look cool for a walk in the park – khaki gets a Spring make over like never before!
By adding a contrast colour and various textures, layers and prints you are less likely to look like you're about to join the army. Khaki works very well with co-ordinating colours such as burnt orange, denim, black, white, pink, grey marl and yellow to name a few. Skin tone depending, choose the one that suits you and go for it!
Not forgetting gold jewellery, badges or brooches for the perfect finishing touches.
Below shows two 'on trend' elements – lace and Khaki, to this fab day to night dress – £59.99 Zara
Go camouflage with Urban Outfitters!
Zadig & Voltaire £70
Warehouse are known for creating staple items in signature colours, and this gorgeous khaki denim coat is no different. This coat would be the perfect replacement for your winter parka, heavyweight denim that can easily be accessorised with gold or rose gold jewellery. This denim lab coat from Warehouse is currently £59.00.
These khaki dungarees by Only are the perfect casual addition to your Spring outfits, perfect to pair with some heeled boots for a night out or flats for a day shopping with your friends! Dungarees are ideal for pairing with a plain black vest or with a contrasting coloured three quarter length top.
Whistles – Wide cropped trouser – £130
Limited Edition Jacquard Zipped Bomber Jacket from M&S – £59.00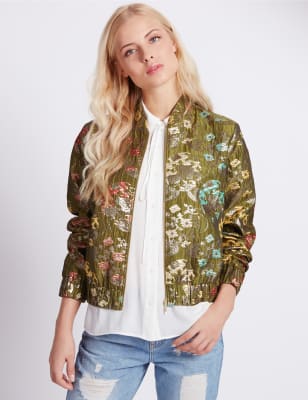 How to Wear a Blazer outside the Office
The depth of your closet is not measured by the number of pieces you own, but rather by each pieces' versatility. The most versatile and popular jacket in women's fashion right now is the blazer. Whilst the blazer is commonly associated with office work, a blazer is the perfect staple item in both men's and women's wardrobe for a sophisticated but casual everyday look – outside the office.
How you combine a blazer with other garments in your wardrobe shows off your personal flair and allows you to express yourself whilst maintaining a stylish edge. There are many ways to suit up and follow this trend. Below are five looks to help you rock the blazer with style!
Boyfriend Style
The boyfriend look is easy to achieve and is the perfect everyday shabby chic look. To achieve this look, pair a white tailored shirt dressed with an over-sized blazer. Roll up the sleeves up and add a skinny belt for an edgier look. Dress it up with high heels and a bold necklace or go casual with a pair of flats and elegant gold jewellery. This single breasted blazer from Armani (£1,550.00) would be perfect for this look:
Ultra-Feminine
For a softer more elegant style, pair a classic blazer with a lace blouse or a ruffled silk top. Match this with some black slim fit trousers or tuck the blouse into a skater skirt paired with some ankle boots for a fun wearable look. For a date look, go with a tailored playsuit, matching blazer jacket and heels. For a more playful look, pair a navy blazer with denim shorts and converse trainers. This salmon blazer from Zara (£49.99) would be perfect for a casual day time look:
Unity
Have a purple skirt and shirt you can't wear together because they're not complimentary shades of each other? No problem. Layer up with a purple, black or floral blazer with purple hues. Blazers are perfect for unifying an outfit and pulling colours together. This gorgeous bird print blazer by Mela London (£20.00 at House of Fraser) would be perfect to match with a coral top.
Rock the Patterns
Don't be scared of prints. Aztec and floral patterns can be the perfect addition to an outfit, especially in the form of a blazer or light jacket. Pair it with a block coloured dress or a royal blue blouse and dark denim. You'll look fabulous! For a bolder look, try a black striped or polka dotted shirt with a red blazer. If red isn't your colour, emerald green, royal blue and canary yellow work well too. Have fun with it, fashion is a trial and error process. We love this checked blazer from Armani (£1,250.00) for a subtle pop of colour:
Maxed Out
Maxi dresses are often associated with summer and are often wore as beach wear, however a maxi dress can be instantly transformed into a glamourous day time look with a white or tan blazer. A cropped blazer gives an elongated look which can be flattering on those with smaller torsos. During spring and autumn, try a fitted denim blazer. On one of those cool summer nights, make sure you keep a light blazer nearby to drape over your shoulders for a stylish look. This Jigsaw pastelle blazer (£179.00) would look great on top of a white maxi dress.
The days of blazers being restricted to the office only are gone. Today they come in a variety of colours, cuts and fabrics for endless style combinations. They're perfect for layering or adding a splash of colour to everyday outfits. Whether you're a "Material Girl" or thrift shop hunting, remember that no wardrobe is complete without a few statement blazers hanging around.
Men's Special: Fashion & Brands for Men
Whilst the high street tends to be dominated with brands predominantly catered towards women, it can often be hard to identify high quality stores that provide the everyday man with perfectly fitted garments depending on your body type. Do you find yourself not knowing where to start or walking aimlessly round the small men's section of department stores? There are many well-known and trusted men's brands that cater for all builds and frames; we've listed some of the best to give you a head start!
Brands for Narrow Frames
It is common that men with narrow frames may find it difficult to find clothes that flatter their figures and create shape, instead of opting for un-shapely clothes with excess material which will only extenuate your narrow figure. Dressing to create the illusion of broader shoulders is common amongst men with narrow frames and finding brands that have your requirements in mind makes this process a lot easier and a second nature whilst shopping! Our top three brands for men in this category would be Sandro, Ted Baker and Zara.
Brands for Larger Frames
Over the last decade there has been an increase in the number of popular brands that cater specifically for larger frames, stocking a wide selection of stylish outfits in XL sizes. Gone are the days where your size means you can't be fashionable and feel fabulous. Whether you have broad shoulders or hold most of your weight at the centre of your body, there are clothes specifically designed to fit for your requirements to enhance or deflect. Brands that are great for men with larger frames are Boss, Cos, Gant and Gap.
Brands for Long inside Legs
Finding trousers and jeans that fit you at both the waist and length can be a task in itself, especially if you have long legs. Whilst there are many different styles available including wide leg, slim fit and low rise it is important that your trousers don't have excess material bunching up around your ankles (or rising up above your ankles!) It is astonishing how many men make this style mistake! So, how and where can you find an in-between? 7 For All Mankind, Whistles and Uniqlo all cater for men with long inside leg measurements – now there's no excuse to wear ill-fitting trousers!
Brands for Short inside Legs
If the majority of your height is from your torso rather than your legs, you want to be purchasing the right garments to create the illusion of a more proportioned body shape. Step away from the rolled up jeans and start shopping in stores specifically created with you in mind! Check out DKNY, Reiss and Sandro for the perfect fit.
Every man needs a great fitting suit! Everyone has a different body shape and no two people are exactly the same, which is why investing in a made to measure suit ensures that you will come away with the perfect suit for YOU. Hemingway Tailors offer a great service for men, women and special occasions.
Email info@coathanger.net to book a complimentary private consultation with Hemingway Tailors and see how amazing you or your man can look!
London Street Style: The Best Looks from London Fashion Week 2016
Finding style inspiration can be hard when you have very specific taste, which is why London Fashion Week is the perfect opportunity to rediscover your love for fashion. London Fashion Week (19th-23rd February 2016) brought out the best in street style and will undoubtedly provide fashionistas and enthusiasts an array of outfits to take part in the trend.
Street style is where we get to see how the runway looks are taken and pushed to the limits. It's where self-expression and passion for fashion meet. Below we look at some of the top trends that were spotted in and off the runways. We explore how you can incorporate each one into your everyday wardrobe.
Fringe
A trend that is loved by celebrities and is once again a hot trend is fringe. This trend refuses to stay in the 70's where it originally gained its popularity. Fringe has been reinvented many times, and for 2016, it has found itself revamped and updated, yet again! To avoid going for the 'hippie' look, you could add touches of fringe into your outfit by way of a cross body bag such as this limited edition fringed bag at River Island. Another great way to work it into your everyday style is by layering a fringed dropped hem vest over the top of a solid coloured top.
Layering
Speaking of layering…short sleeve cropped pieces are being worn on top of long sleeve basics are here to stay and look effortlessly stylish despite the look being so simple to achieve! This look is seen all over the runways and out and about in the streets of London. From light weight trench coats, to doubling up on bomber jackets, to long shirts that hit the leg as far down as the knee; layering can be easily done on a daily. To dress it up and make it less casual, choose pieces that are structured in design, but that still have length.
Long Pleated Skirts
A running theme in London street style at present is length. The long pleated skirt has made its comeback and it's about to change everything. We've seen the long pleated skirt made appearances in a multitude of colours, fabrics and textures, but the shared theme of the skirts are the length and the elegant pleated details. This is a versatile piece that can be styled with a t-shirt for a casual look or it can be paired with a crisp button down shirt and gold jewellery and pumps, for an office-appropriate look.
Whether you want to go full on trend crazy, or if you would rather take it little by little, the street style looks spotted at London Fashion Week provided a little something for everyone. Tweet us at @Coathangernet with your thoughts on the latest trends!
Coathanger Loves…Grammys 2016!
Music's biggest night of the year has come and gone, and what an explosive night it was! From touching David Bowie tributes to outstanding performances, the Grammys 2016 will be remembered as a truly talented evening. But it wasn't the performances that stole the show for us; it was the stunning outfits walked down the red carpet that took our breath away!
From dapper tailored suits to figure enhancing gowns, music wasn't the only talent that everyone was talking about after the Grammys. Music's hottest stars were beautifully styled by their celebrity stylists and hit home how a sensational outfit can transform your entire look.
We loved the looks on the red carpet that much that we've made a guide on how you can look just as stylish as the celebrities!
Selena Gomez graced the red carpet with this magnificent glittering gown with a small train. The sexy cut outs and tight fabric emphasize her killer hips and tiny waist. A glamourous outfit pulled together with some simple hoop earrings and a quirky ring to finish off the look. Love the look? This metallic plunge front dress from AX Paris (currently £14.99 – down from £45.00) is the perfect copycat dress!
Demi Lovato made a chic entrance to the red carpet in this low key but super stylish ensemble. Flattering her curves in an all-black outfit with tall heels, Demi showed off her best assets with a side split skirt and tailored suit jacket. Following her trademark style, Demi finished off her outfit with lots of silver jewellery to flatter her sun kissed skin tone. Want to get Demi's' look? This Austin Reed suit jacket (£159.00 from House of Fraser), front split skirt (£20.00 from Missguided) and these Lara court heels (£59.00 down from £100.00 at Kurt Geiger) are the perfect make shift outfit.
American singer and song writer, Jack Antonoff, wore a classic suit down the red carpet with a sild bowtie to tie together his entire look. The grey and black suit blazer is a stylish alternative to the common all black suit. Want to look as dapper as Jack? This Kenneth Cole Slim fit blazer (£100.00 down from £200.00 at House of Fraser), silk bow tie (£45.00 at John Lewis) and black leather shoes (£55.00 at Burton) will have all eyes on you!
What was your favourite look from 2016 Grammys Awards?
Runway To High Street: How Runway Collections Translate To High Street Fashion
Runways showcase collections from the most well-known and upcoming designers from all corners of the globe. Most upcoming trends originate from the runways and filter through to high street fashion, giving everyday people the option to get the hottest fashion from the runway for a fraction of the hefty price tag from their local high-street stores.
As soon as a look is walked down the runway, high-street designers are coming up with ways in which the outfits can be tailored for our everyday lives and are not only available to those with a large amount of disposable income. Take this look from a runway recently:
A gorgeous sheer material contrasted with the new hatchling neckline (see below) which can be transformed into everyday wear and become a hit on the high-street instantly. Designers of course can't copy each other's designs, but by incorporating the best features of a garment into a whole new look is the key to creating wearable on trend looks.
Topshop:
Zara:
A trend set to find itself sweeping the country for Spring, is the new neckline – the hatchling! The hatchling is the perfect neckline for those not ready to delve into turtle necks and who want to step away from collars
.
Topshop:
H&M:
Recently revealed, an effortlessly chic outfit that can easily be incorporated into everyday style this summer. A long flowing floor length skirt paired with a simple white long sleeve top, loose fitting and cool for the summer months as well as being easy to accessorise.
H&M's take on the Michael Kors collection:
Paula Gerbase, designer at 1202, presented a new collection for Spring/Summer 2015 including this straight cut jumpsuit with an emphasized waistline:
1201 inspired Missguided, who have created their own glamourous adaptation which takes the neutral garment and transforms it into the perfect evening wear:
A popular look from the Autumn/Winter 2015 collection by Oscar De La Renta:
Newlook's adaptation:
What upcoming trend are you most anticipating for Spring 2016? Let us know on Twitter (@Coathangernet), Facebook or Google Plus!
Coathanger Loves…Spring Patterns!
Following on from our overview of the Pantone Colour Report for Spring 2016 where we helped you find the most beautiful garments in the signature colours of this spring, we didn't want to miss the most important staple of spring – patterns!
Designers around the world have been gracing the runways with their spring collections, bringing along some unique and extraordinary designs that are perfect for spring. Spring is the season of change and growth; flowers start blooming again, the winter blues melt away and it's the perfect time to broaden your style by interpreting some statement patterns into your everyday wear. For someone who may not be confident embracing patterns and drawing attention to themselves, it can be quite daunting shopping in springtime where a lot of outlets replace the neutrals for the new seasons patterns.
Our fashion stylists at Coathanger have chosen their favourite patterns and garments from this year's spring collections.
We love this elegant dress for late springtime. A simple way to incorporate one of Pantone's spring colours, buttercup, into your outfits. This would look great with a pair of simple sandals or mid heels for a night out. Due to the plunging neck line, this dress gives you more freedom with your choice of accessory – a short, mid-length or long neckless would look good. The frills in the middle of the dress are the focal point and add a very elegant touch to a somewhat glam outfit.
We love the pop of colour in this tangerine ensemble at Hermes. A statement outfit that would look instantly well thought out! To wear this colour yourself without looking like…well…a tangerine, can be very simple if you know how. Choose one garment in this beautiful rich colour and pair it with less vibrant shades such as beige and black, not forgetting some accessories to bring the look together. If you are weary about wearing such a vibrant colour, go for a handbag in this shade instead as your staple piece! The clean lines of this outfit are very flattering, especially on people who are slightly taller.
This dress from Missoni perfectly highlights how vibrant patterns such as multi-coloured stripes can be suitable for everyday wear. A simple shift dress which you may wear for work has been transformed into a piece of art with the geometric design and flawless colour choices. Due to the position of the colours, we think this dress would be great for someone with small hips who would like to create the illusion of larger hips.
Sandro's addition to spring fashion adds a fun twist to men's fashion for spring 2016. After just expanding their brand and increasing the number of high street stores, Sandro are a very affordable brand with a range of styles to suit all lifestyles, body shapes and seasons. We especially love this striped shirt and suede jacket combo, a fun pairing which screams "chic".
One of our favourite outfit combo's for spring 2016 is this outfit by DSquared2. Known for their quirky designs and alternative style, DSquared2 know how to create edgy outfits that look brilliant on and off the runway. This casual outfit offers the perfect mix of textures and colours, complimentary of all skin tones and perfect for day time or an evening out.
Spring Fashion 2016: Pantone Colour Report & Outfit Ideas
With winter coming to an end, it's time to pack your winter woollies away and embrace the new colours and styles of spring. Spring is the season for gorgeous vibrant colours and patterns, so when Pantone released their fashion colour report for spring 2016 we were pleasantly surprised at the wide range of contrasting colours; the perfect palette of colours to be incorporated into your wardrobe!
Pantone Fashion Colour Report – Spring 2016
Read the report here
We loved the colour choice for spring 2016 so much that we've found one garment for each colour to help you decide which colours would be perfect for your everyday style!
Rose Quartz
Oasis Princess Coat – £85.00 at Oasis
Peach Echo
Lola Tunis Dress – £179.00 (was £420.00) at Brand Outlet
Serenity
Forte Forte Blouse – £146.46 (was £244.10) at Far Fetch
Snorkel Blue
Demi Barrel Bag – £35.00 at Accessorize
Buttercup
Per Una Print Top – £19.50 at M&S
Limpet Shell
Closet London Dress – $84.99 at Modcloth
Lilac grey
French Connection Scarf – £45.00 at John Lewis
Fiesta
ASOS Blazer – £22.50 (was £25.00) at ASOS
Iced Coffee
Richard James Twill Trousers – £135.00 (was £265.00) at Richard James
Green Flash
Sultanesque Green Oval Ring – £35.00 at Not on the High Street
Which colour from the Pantone Spring palette is your favourite? Let us know on Twitter!
Coathanger Loves…Swinging 60's Fashion
Are you a "dedicated follower of fashion"?
Fashion has moved on immensely since the 1960's, but it was this era that introduced many iconic styles which follow through to modern day runways today. With iconic fashion icons such as Twiggy and Audrey Hepburn, the stylish women of the 60's have given stylists today more than enough inspiration for garments going forward for decades to come.
Styles of the 60's
1960's Patterns
The 60's were all about geometric shapes and bold patterns – the bolder the better. Large floral print dresses and boxy print garments were all the range in the mid-1960s where it was rare to see women in neutral colours or classic black garments. Below is a classic example of a dress women would wear in the 60's; a cream dress with striking green and blue patterns.
£70.00 at Rokit
Another gorgeous example of a textured patterned button up coat which ladies would have worn a similar style in the sixties:
£85.00 at Topshop
Collars
Glamourous rounded collars were a popular fashion statement in the 1960's, which introduced the modern day 'peter pan' collar. More elegant that a clean cut collar, rounded collars added a bold statement to an outfit. Collars were a common addition to casual day dresses throughout the sixties and the start of the seventies.
Bold Statement Accessories
Unique, vintage inspired jewellery was very common in the sixties. With women searching shops for unique brooches and large vibrant earrings, an outfit was not complete without a statement piece. Top handle bags were also extremely popular during this era, thanks to Audrey Hepburn's spin on the look in Breakfast at Tiffany's.
£110.00 at The Gathering Goddess
The Origin of the Short Skirt
Women began reducing the length of their hemlines very early 90's which quickly became a trend, one that has followed us through to the 21st Century. Whilst maxi skirts were still a staple in many wardrobes across the UK, A-line mini skirts and dresses were the height of fashion. A fashion icon who sported this look was the stunning Jane Birkin.
Christmas Party Outfit Ideas
Struggling to think of what to wear for your Christmas party at work? If you have been working at the same company for multiple years, it can be hard to think of a unique outfit for your Christmas party each year. That's where we come in!
We've come up with three Christmas party outfits to give you inspiration for your festive night on the town. Like a look of one of the garments? Click on your favourite look and you'll find out where to purchase all the items!
Beautiful in burgundy
Stylish and chic in black
A touch of navy
Which outfit is your favourite?